This event is archived.
Humans vs Zombies 19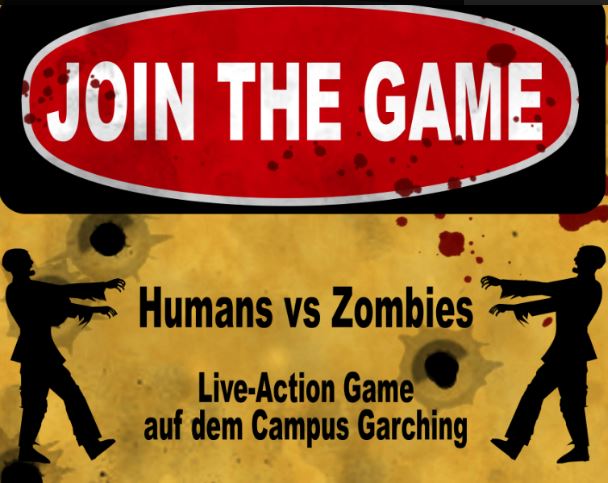 Welcome to the online registration for Humans vs Zombies offered by the FSMPI.
If you want to participate as survivor or zombie visit the website: fsmpi.de/hvz
We play Humans versus Zombies at the Campus Garching on Thursday, the 07th July from 10am till 7pm.
Schedule
10am : Gathering infront of the main entrance to the MI Building
10:15am : Explanation of the game and splitting into groups
1pm : Barbecue (Meat (Pork and Turkey Hen)/ grilled cheese in a roll) between Finger 8 and 10 next to the MI-Magistrale (the game will be paused)
7pm : Official end of the game with subsequent food order
You can buy drinks for 1€ during the whole day.
If you are a vegetarian, you can set the check and we will offer you grilled cheese instead.
If you do not want to eat anything from the barbecue please tell us so using the comments.
Please wear sturdy shoes, since you will be running alot.
Player-recognition-cloth and ammonution will be made out of cloth, your own ones are not allowed.
PLEASE REGISTER FOR EITHER SURVIVER OR ZOMBIE!
If it rains the event sadly has to be postponed. You will receive an e-mail if that's the case.
Contact
Veranstaltungsreferat FSMPI
veranstaltung@fs.tum.de
Fachschaft Mathematik/Physik/Informatik
Studierendenvertretung an der TU München
Boltzmannstr. 3
85748 Garching
Verantwortliche:
Franziska Günzinger
Viktoria Kirchleitner
Fabian Richter